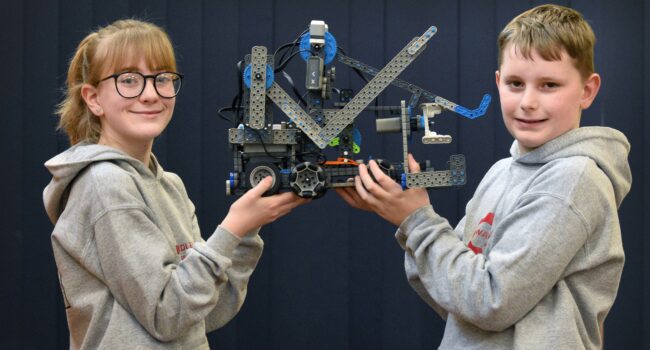 Award winning project receives increased funding from the Reece Foundation
20th November 2023
Funding has been increased to support VEX Robotics Competitions and outreach activity in the North East, a programme that was the recent winner of the "Inspiring the Next Generation" title at the 2023 Robotics and Automation Awards.
Our continued support of VEX Robotics kits will help to bring engineering, coding and robotics to life for students both inside and outside of the classroom and aims to energise STEM education and offset the predicted skills gap.
The award-winning outreach programme is supported in the North East by the Reece Foundation and Nissan Skills Foundation and has seen nearly 1000 robot kits reach over 150 schools and impact thousands of students. The crowning achievement was three North East school teams representing the UK at Robotics World Championships in May.
Over the past five years, the Reece Foundation has funded local schools to compete in two strands of VEX Robotics Competitions, using VEX IQ and V5 products. Students in KS3 & KS4 are tasked with designing and building robots to play against other teams in a game-based engineering challenge which changes each year.
Anne Reece, Chair of The Reece Foundation said: "This outreach programme is a fantastic example of why the Reece Foundation exists and we are very proud to be able to support the work in the region. This year we are increasing our funding, which will allow an additional 34 teams the chance to develop their STEM education and compete in the competitions. But it's not solely STEM competitions which our funding covers, VEX 123 and VEX GO bundles have also been provided to 75 local schools as the changing scientific and technological landscape in the UK, means it's important to start STEM education early, making sure students of all ages perceive themselves as capable and creative engineers, coders, and problem-solvers."
Paul McKnight from VEX Robotics said: "The support from the Reece Foundation has been nothing short of phenomenal. The VEX programmes are now embedded in over 150 schools and impacting thousands of students in the region every year. From daytime teaching, local competitions right through to global events. The impact, not just on learning, but also the character building and personal development is immeasurable, and the future will be very bright in the region thanks to the commitment from everyone at the foundation."
The work that the Reece Foundation are doing in the North East, in partnership with organisations such as VEX Robotics, the REC Foundation, Nissan and Newcastle University is helping to build a strong ecosystem of STEM skills and knowledge amongst those in the next generation that will continue to benefit all in the local area for years to come.
Back to News