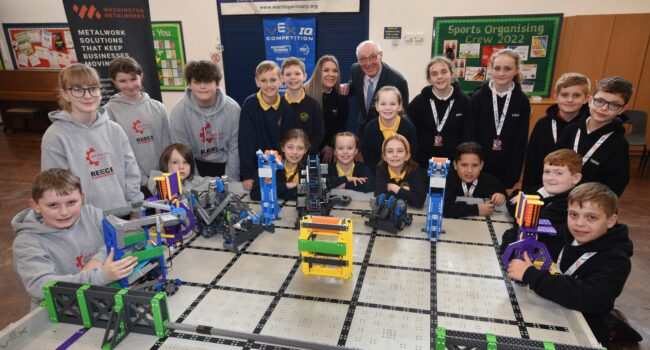 Funding from The Reece Foundation enables three North East Primary Schools to head to USA for robotics World Championships this Spring
4th May 2023
Three North East Primary Schools will head to the USA in May to compete in the Robotics World Championships taking place between the 2-4 May 2023.
Over 700 primary schools from across the world will take part in the competition organised by the Robotics Education & Competition Foundation.
The North East schools are Bill Quay Primary School and Wardley Primary School both in Gateshead, and Pelton Community Primary School in Durham. The fifteen 10-&11-year-olds from the North East will represent the UK along with schools from Milton Keynes and Leamington Spa.
Teams of 5 robotics champions from each school won their places at the VEX IQ World Championships in Dallas after winning at the National UK Championships in 2022 and 2023.
Each of the North East schools has received financial support towards the costs of the trip to Dallas from the Reece Foundation. Faye Dent, the Reece Foundation Grants Manager is becoming an event partner so she can further support schools in the North East to compete and help inspire the next generation of engineers and scientists right across the region.
Anne Reece, Chair of The Reece Foundation said:
"These three schools are a fantastic example of why the Reece Foundation exists and we are very proud to be able to support their adventures in the Robotics World Championships. 
"We support the long term, sustainable prosperity of the North East through the promotion of engineering and manufacturing, focusing on the improvement of STEM education, training and employment opportunities.
"Our trustees hope the children's robotics success inspires other schools and organisations to get involved. It would be a great legacy for these children to inspire secondary schools and more business partners as its not only financial support that is required but also the creation of more opportunities for our young people."
The Nissan Skills School in Sunderland is also a long-term supporter of the regional events which enable schools to win a place at the national finals.
In the VEX IQ Competition, the primary school children, with guidance from their teachers and mentors, build a robot using simple, snap-together VEX IQ parts to solve an engineering challenge that is presented each year in the form of a game. Teams work together to score points in Teamwork Matches and get to show off their skills individually in driver-controlled and programming Robot Skills Challenges.
The VEX IQ Competition fosters student development of teamwork, collaboration, critical thinking, project management, and communication skills required to prepare them to become the next generation of innovators and problem solvers.
Over the past four years, Wardley Primary School have been extremely successful when competing at regional and national levels in different robotic competitions. As part of each of the programs, the children learn to design and build working robots which they must code to perform specific actions.
Dan Burfield, a teacher at Wardley Primary School said:
"The fact that a robotics team from a small primary school in Gateshead can win the UK championship is amazing.  For a primary school from Gateshead to be able to compete at the World Championship will be something these children, our school and the local community will remember for ever. 
"Support from organisation like the Reece Foundation for opportunities like this not only makes engineering and computer science more accessible and attractive to our pupils, but importantly, it shows that if you have a dream and work hard there is no telling where you will end up.
"We want to make STEM and robotics available for all at Wardley, so all the children can experience the joy of programming a robot and then watching it carry out the commands they have given it. Robotics allows them grow as they wrestle problems, show resilience and ultimately come up with solutions."
In their after-school club, Pelton Piranhas have worked hard to modify their robot to compete in the 22-23 VEX IQ game 'Slapshot'. They competed in the VEX IQ regional event at Nissan in January 2023 placing 2nd place in the Skills Challenge and Teamwork Challenge. This strong performance ensured that the team qualified for the National Championships where they qualified as one of the few primary schools in the UK, and the first ever from County Durham, to compete in the VEX IQ World Championships.
Karen Telfer, Head teacher, Pelton Community Primary School said: 
"I am extremely proud of what the children and staff have achieved. Taking part in a World Championship will be an amazing experience for our children. They will be able to showcase their skills in STEM, communication and teamwork. They will have the opportunity to work with children from around the globe which will be an experience to remember."
Bill Quay Primary began their VEX journey in 2022 at the regional finals and were invited to the National Finals where they were placed joint third.  From there, interest in robotics grew and pupils from years 5 and 6 have since taken part in numerous VEX IQ competitions across the North East. This led to the school competing once again in 2023 and qualified to compete in the World Championships.
Toni Devine, Headteacher, Bill Quay Primary School said: "This is a fabulous accolade for both our pupils and our community.  We are very proud of all our pupils, who have given up many of their playtimes to practise and develop their coding skills.  Travelling to the World Championships will be an amazing experience where I know they will make us proud.  The pupils themselves are incredibly excited to be invited such a prestigious event and have the support of the wider local community behind them as they seek to follow their dreams and compete with the world's elite."
Dan Mantz, CEO of the Robotics Education & Competition Foundation said: 
"Teamwork, problem-solving, and ingenuity are all on display at a VEX IQ Competition event and students develop these skills all year long by participating on a robotics team. Together, with the support of educators, coaches, and mentors, we're fostering students' passion for STEM at a young age to ensure that we have a generation that is dedicated to creating new discoveries and tackling life's future challenges."
The Reece Foundation was established in 2007. Its main objective is to increase the long term and sustainable prosperity of the North East of England primarily through the promotion of engineering and manufacturing. They focus on the improvement of education in engineering and related scientific and mathematical subjects, training in engineering skills, and the development of employment opportunities.
To get in touch with the Reece Foundation email enquiries@reece-foundation.org
Back to News