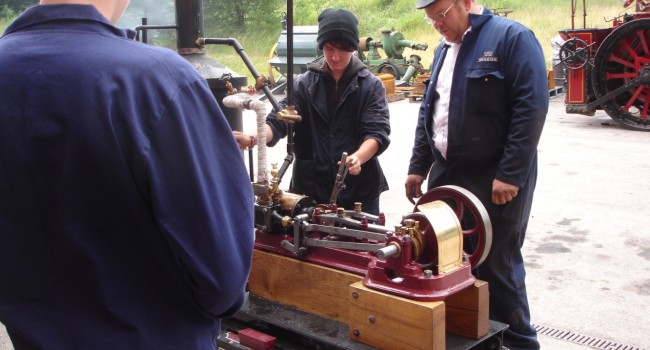 Supporting the Royal Heritage Engineering Centre project at Beamish Museum
3rd December 2013
In 2009, the Reece Foundation donated £350,000 to enable the upgrade of the existing workshop facilities at Beamish, along with the development of two new workshop areas to better the museum's offer to inspire and engage young people in STEM (science, technology, engineering, maths) subjects at school.
As a result, Beamish have been able to develop a wide range of engineering-based activities for school pupils and community groups, through which they hope to inspire a passion and interest in engineering. Beamish's Learning team is currently developing further ideas about how we can use our collections to engage more of the region's young people.
The RHEC project has also enabled Beamish to take on heritage skills apprenticeships – an area of work they are committed to developing further in the future – continuing to help address the region's skills shortages.
The donation has enabled Beamish to take a significant step forward in terms of how they work, with them now able to undertake much more project work in house, which in turn has supported Beamish's continued growth and sustainability.
Richard Evans, Museum Director, said, "It is truly wonderful to have the backing of the Reece Foundation for this project – and we are really grateful. Their support has enabled us to make a step change in how we both retain and develop the engineering skills we need to bring the past to life at Beamish to hundreds of thousands of people every year – and at the same time it has transformed how we work with children and young people across the region. We are really interested in how working to preserve our region's glorious industrial past can help create the engineers we desperately need both now and in the future – how passing on skills across generations can really get young people 'hooked' on engineering from a young age."
What did the donation support?
The donation supported research and development into innovative ways of working with children and young people specifically in STEM-related subjects, based on objects in Beamish museum's collection. Their Learning Team now has a programme of tried and tested, curriculum-linked, STEM themed activities which can be offered to schools to enhance their visit.
The donation also supported improvements to existing workshops included new lighting, enhanced machine shop facilities and the creation of an electrical workshop, a metal working area and a vehicle parts store. The existing joinery shop was also enhanced.
New facilities included a timber shop – where a whole tramcar could be worked on for instance –not possible previously – and a substantial erection shop where projects are based whilst sub-assemblies are worked on elsewhere. The erection shop has eight working bays for project work.
Heritage engineering projects
Reece Foundation investment has made a huge impact on the number and range of heritage engineering projects the museum can undertake. Projects include:
Restoration of an original showman's living van
Annual heavy maintenance of the museum's 1893 Savage Steam Gallopers
Heavy overhaul of Sheffield Tram No.264, built in 1907
Nut and bolt restoration of 1925 motor roller by volunteers
Construction of a new steam locomotive, a replica of one built in 1874 and which worked locally, for use on narrow gauge railway at Beamish
Heavy overhaul and repaint of B-Type bus
A multitude of smaller jobs, from scheduled repairs to reactive maintenance and jobs across the whole museum.
Developing activities for school visits
At the centre of the RHEC project is communicating the enthusiasm and passion for engineering from those who already have it to those for whom it might become a passion, even a career choice. Beamish's Community Learning Co-ordinator has been exploring the potential to run engineering activities for pupils at all key stages. Beamish has partnered with St. Cuthbert's High School in Newcastle to trial and pilot a number of activities themed around Beamish's industrial collections – for example exploring the mechanical and engineering efficiency of a 1920s single cylinder stationary petrol engine. Responses from pupils taking part have been enthusiastic.
Back to News