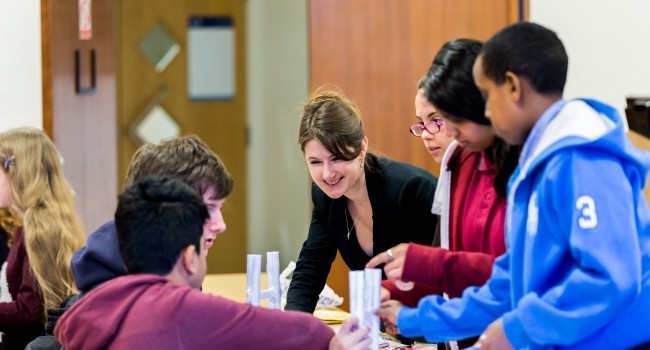 Royal Institution Engineering Masterclasses in the North East
3rd December 2014
With funding from the Reece Foundation, the Royal Institution (Ri) has been able to concentrate this year on bringing Ri Engineering Masterclasses to the north east of England. They recently piloted some Engineering Days in schools with their more experienced engineers, introducing the schools and their teachers and students to the concept of masterclasses. Northumbria University and St Cuthbert's Catholic High School are both hosting Engineering Masterclass Series for local students, starting on October 4th for six weeks.
Dr Diane Crann, Clothworkers' Fellow in Mathematics and Masterclass Programme Manager, said "I am delighted that we have been able to start the masterclasses in Newcastle this term. The staff at both host venues have been very enthusiastic and supportive and I'm sure the students who attend will have a very informative and enjoyable experience."
The Royal Institution has been running Mathematics Masterclasses for more than 30 years throughout the UK. These are aimed at the top few percent of students (in terms of STEM ability) and allow them to participate in a series of classes aimed to stretch them intellectually and expose them to interesting and applied mathematics beyond their curriculum.
Six years ago they piloted some Engineering Masterclasses in London. This was very successful and the engineering programme is now expanding throughout the UK. At every location where masterclasses are run, they invite all the local schools to nominate two or three of their top-tier year 9 students. The students then attend a series of six Saturday morning classes.
Each class is given by an engineer from industry or academia. The classes are developed by the speakers to be stand-alone projects of a very hands-on nature. However, they also want the students to learn the theory underpinning the project and experience how science and maths connect to real-life engineering challenges. At the end of the series, each student will have a very strong introduction to engineering and hopefully see why their STEM subjects at school are so important.
Back to News