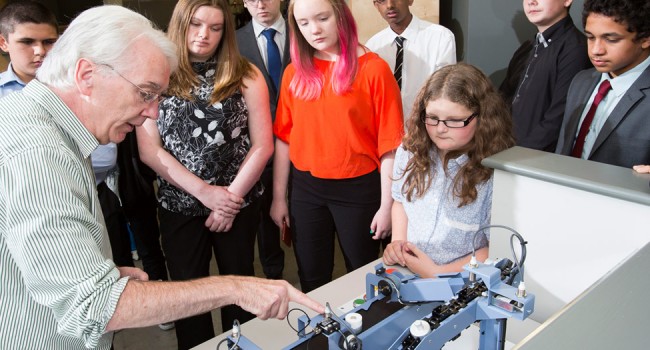 School Opens Pioneering Educational Centre for STEM Studies
29th September 2014
A pioneering educational centre for STEM studies has opened at a Newcastle high school. 
The engineering block at St Cuthbert's in the West End of the city was built with the help of a £700,000 donation from the Reece Foundation.
The school's STEM leader Debra Caldwell said: "Our vision for the Reece Foundation facility is a cross between Robot Wars and the Gadget Show, incorporating project-based learning with fun, exciting and innovative hands-on activities, introducing students of all ages to STEM subjects and solving real-life problems alongside actual engineers.
"As well as the engineering block, Dr Reece also donated money to the school to administer a scholarship scheme designed to encourage bright young people into engineering. He saw that recruitment into the sector was proving difficult at a time when rising unemployment was particularly prevalent among youths. 
"A partnership between schools, university and industry was thought to be able to address the problem."
John Reece, Reece Foundation trustee, said this skills shortage had hit the region's thriving engineering sector: "For a new generation to become enthused with engineering at an early age we need to inspire and excite them and show them the best practices in technology and engineering teaching.  This building will provide a modern inspirational place."
Debra, who works with Michelle Alexander and Toni Sayers on STEM provision, added: "As a science specialist school, at least half of our students in sixth form study a STEM subject and are highly successful.
"Our brightest students receive funding through the Reece Scholarships, but as a school we want to support students of all abilities. We now also target students at Key Stage 2 for the Reece Scholarships, supporting students from primary through to sixth form, educating them on careers paths that can be followed through science, technology, engineering and mathematics."
Although it has only been open for a couple of weeks, the engineering block is already impressing the Reece Scholars at St Cuthbert's.
Patrick Shimmin of Year 7 said they were extremely lucky to have this facility in their grasp, while fellow Year 7 student Joshua Cross said he and his peers felt very privileged to be taking part in the activities that are lined up.
Marko Amezaga-Kutija, who is in Year 13, said: "The new building shows there is much ambition to help us to aim high."
This belief was echoed by Harry Miller from Year 7 who thinks it will be of great benefit and help him to get into a good university.
Matthew Lockey, Year 7, said: "It's great to have such an amazing STEM building in our area. I'm sure it will benefit us greatly in our hopes and aspirations."
And James Towt of Year 13 added: "This is a great investment for the students of St Cuthbert's and other schools in our community."
The facilities are not exclusive to St Cuthbert's and will be used by 13 secondary and up to 30 primary schools who will enjoy access to a range of specially developed engineering programmes.
Paul Ruane, deputy head at St Cuthbert's, said: "We have a very strong commitment towards providing the very best practices in teaching and learning and we are continually pushing the boundaries in our determination to provide the very best opportunities for pupils. "Our new building exemplifies the most modern design and engineering excellence and I'm sure it will inspire and excite our students. We are most thankful for the support of the Reece Foundation."
Back to Case Studies