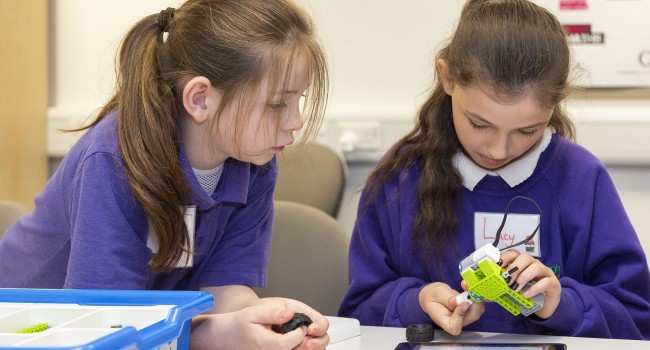 Primary Pupils Put their STEM Skills to the Test in Lego Robot Challenge
2nd October 2018
Pupils from more than a dozen North East primary schools have taken part in the first 'FIRSTLEGO League' competition at Nissan's Sunderland plant.
Year 5 and year 6 pupils from 13 primary schools in the Washington area were set the challenge to design, build and program a robot using LEGO Mindstorms technology, helping them to develop their STEM (Science, Technology, Engineering and Maths) skills.
The competition is one of three new initiatives launched by the Nissan Skills Foundation in a bid to bring STEM to life for primary school students across the North East.
The competition will now be rolled out to hundreds of pupils from across the region thanks to additional funding from the Reece Foundation.
Kevin Fitzpatrick, Senior Vice President, Manufacturing, Supply Chain Management and Purchasing, Nissan Europe said: "The Nissan Skills Foundation is designed to inspire the next generation of manufacturing and engineering talent. These new challenges give local youngsters the opportunity to discover the excitement of STEM, enabling them to develop problem-solving skills in an innovative way."
FIRSTLEGO League is a collaboration between FIRST, a not-for-profit public charity, and the LEGO group. In the UK and Ireland, the program is run by the Institution of Engineering and Technology (IET), one of the world's largest engineering institutions.
The initial challenge was supported by £4,000 of prize money awarded to the Nissan Skills Foundation at the North East Automotive Alliance Annual Awards earlier this year. It was delivered by Ayresome Primary Schools' LEGO Education certified staff through their Innovation Studio work in the North.
Two new challenges, Vex Robotics, a robot building competition and Airgineers, a drone racing competition, will also roll out in the 2018/2019 academic year with support from software company Autodesk.
The Nissan Skills Foundation launched in 2014 and is designed to encourage young people to take up STEM subjects, and generate excitement about careers in industry by offering a unique insight into the world of advanced manufacturing and engineering. More than 35,000 children from across North East England have now taken part in Skills Foundation events at Nissan Sunderland Plant. The initiative offers a variety of formal programmes including:
Code Club, an event that teaches school children the fundamentals of coding and introduces them to the world of computing and programming
Gimme Nissan, a focused event to encourage girls to consider careers in manufacturing & engineering
F1 in Schools, a competition bringing the thrill of Formula 1 racing into classrooms across the region
Industrial Cadets, a scheme aiming to introduce students to the world of manufacturing and industry through four separate programmes
Nissan Blue Citizenship programme Eco School, an activity that teaches students about Nissan's approach to finding solutions to global environmental issues
Monozukuri Caravan, a hands-on interactive workshop celebrating the art of making things
The Nissan Skills Foundation has a dedicated team based at Nissan Sunderland Plant who are able to support schools by explaining the careers available in manufacturing and the different activities available for schools to access. Teachers can get more information by contacting Heather Corrigan via email at heather.corrigan@nissan-nmuk.co.uk or on (0191) 415 2035.
Reece Foundation has grants available for innovative STEM projects that aim to inspire the next generation of engineers. Find out how to apply here.
Back to News