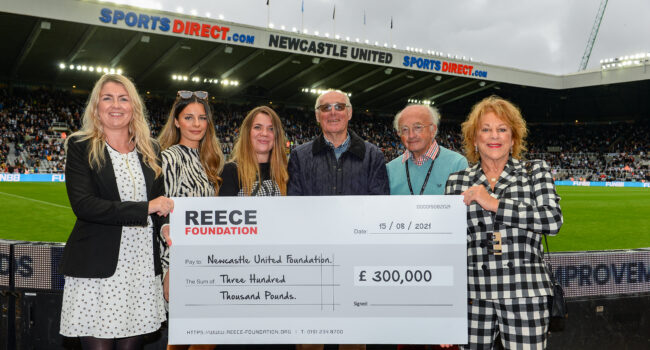 Newcastle United Foundation's STEM learning facility a new reality for region's young people at NUCASTLE
21st August 2021
Newcastle United Foundation's vision to create a world-class STEM learning facility to support generations of young people in the North East is becoming a reality with the support of a like-minded charity.
Construction is now well under way to build NUCASTLE, powered by Newcastle Building Society – the new home of the Foundation just a five minutes' walk from St. James' Park in Newcastle's West End.
The three-story community hub will house a number of unique spaces for residents of all ages to enjoy sports, leisure, wellbeing and personal development activities, alongside interactive learning for school children, teenagers and young adults through the Foundation's NU Futures programme.
NU Futures is the Foundation's flagship initiative to operate out of NUCASTLE and will engage young people in careers education and skills development through their love of sport and technology.
The unique approach to bridging skills gaps and creating new jobs and career paths in science, technology, engineering and mathematics (STEM) sectors will support thousands of students and young adults in the region for years to come – all from digital learning suites and specialist hi-tech hubs.
The Foundation's commitment to providing STEM opportunities is being supported by Reece Foundation, a North East charity committed to increasing the region's prosperity through the promotion of engineering and manufacturing.
Sarah Medcalf, Deputy Head of Newcastle United Foundation, said: "It is so vital we provide opportunities to inspire young people into STEM sectors and to give them the tools and confidence they need to move forwards into careers in the field.
"We are so thrilled Reece Foundation are helping us deliver this dedicated STEM facility that will be central to our outreach work for thousands of 11 to 25-year-olds across the North East.
"We are looking forward to welcoming the region's young people to NUCASTLE in the spring and using this immersive and unique environment to allow them to achieve their potential."
To celebrate the partnership between the two charities, trustees and representatives from the Reece Foundation presented a cheque pitch side at Newcastle United's first home game of the season.
Anne Reece, Chair of the Reece Foundation, said: "We are delighted to be able to assist in the building of this new facility which will give a home for all the excellent work carried out by the Newcastle United Foundation.
"In particular, we are excited by the prospect of a state of the art STEM learning room which will increase the skills and therefore the earning potential of local young people.
"We can't wait to see the new building open next spring."
NUCASTLE is set to open its doors to the public in March 2022 and will attract 100,000 visitors annually who can access a spectacular 4G rooftop pitch, smart fitness suite, sports hall and accessible changing areas, event and meeting spaces.
For more information about the Foundation and programmes near you, follow Newcastle United Foundation on Facebook, Instagram, LinkedIn and Twitter for regular news and updates.
Back to News