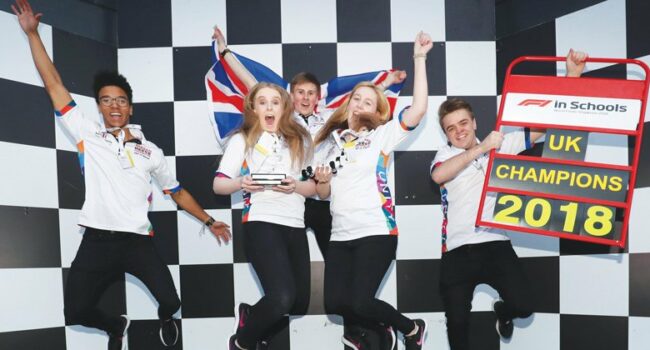 F1 in Schools Inspires the Next Generation of Engineers
10th July 2018
F1 in Schools is the world's most competitive STEM competition involving more than nine million young people from 17,000 schools in 44 countries.
Students design, make and race a miniature F1 car capable of 0-80km/h (50mph) in under one second. Entries are also judged in categories including scrutineering, engineering, verbal presentation, pit display and enterprise portfolio as well as the car's speed being tested on the Official F1 in Schools track, a 20m long drag strip.
Registration for the 2020/21 season is now open. Find out more here
In 2018, Team Unity from Emmanuel College in Gateshead, were crowned UK Champions and winner of the Best Engineered Car Award before going on to compete in the World Finals in Singapore.
They finished in an incredible seventh place in the world and their design engineer secured a place on the Unilever Williams Academy where he will be mentored by Williams professionals.
We caught up with the team and their teacher, Louise Glover, as they prepared to head to Singapore to find out more about what the experience has meant to them.
The team is made up of manager Lucy Brooks, 17, Morgan Lisk, 16, Michael Farrell, Aaron Morris and Sam Chapman, all 17.
The students spent hours of their own time designing and constructing the model car using computer-aided design and 3D printing.
In a key innovation, they designed nostrils in the nose of the race car to create lift and reduce drag on the wheels to increase speed.
Unity team manager, Lucy Brooks, said: "It's unbelievable; we've all worked so hard for this, so I think we deserved it. It's been a long road, but so worth it. We've been together a long time now, so our teamwork is certainly a factor in our success.
"We have a huge amount of work now to prepare for Singapore, making sure our car is as good as it can be. We know that competing at the World Finals can open doors to careers in engineering so that is a great opportunity for us. We're very excited to be heading there."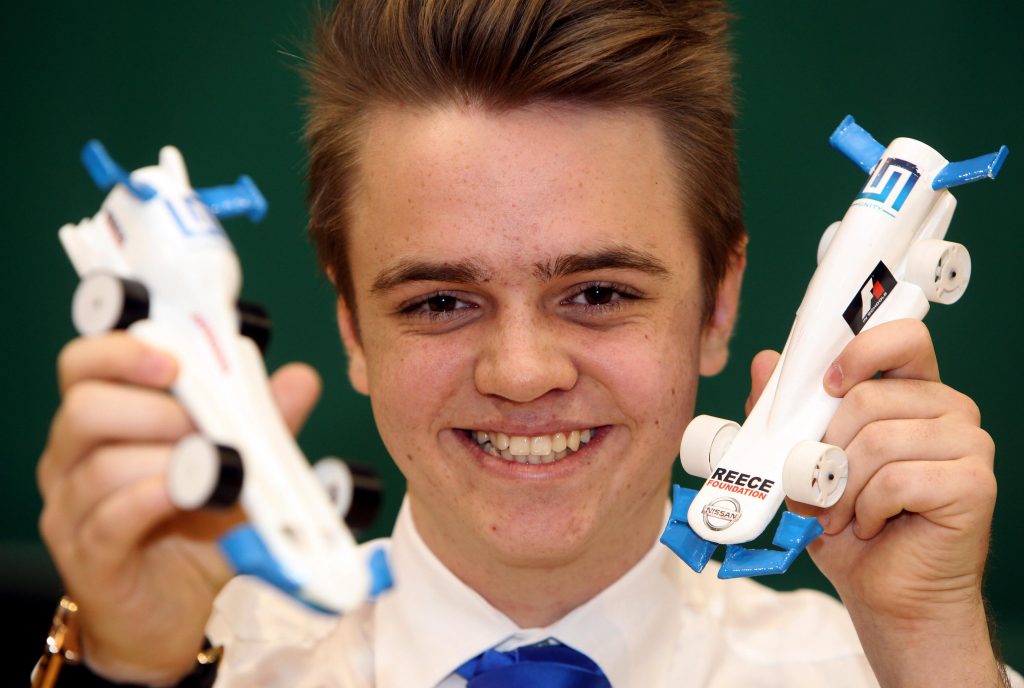 Technology teacher at Emmanuel College, Louise Glover, who runs the F1 in Schools programme at the school, explained the impact it has had on the team and other pupils.
She said: "As individuals they have grown hugely through the process, gaining a vast range of new skills and gaining confidence. Two of the team are our head boy and head girl and the rest are prefects or house captains and they are great role models for other students, inspiring others to get involved.
"When we first started the scheme five years ago, we had just a handful of students involved. Now we have dozens coming along to lunch-time and after-school clubs.
"It really is a fantastic and fun way to get young people involved in STEM."
The students must raise the money to fund the trip and have already won support from businesses and charities in the region including the Reece Foundation, a long-term supporter of the F1 in Schools programme, and the Nissan Foundation.
Anne Reece, chair of trustees, Reece Foundation, said: "Reece Foundation is very proud to support this very talented group of innovative young racing engineers and they deserve recognition for their fantastic achievement in winning the UK finals.
"The North East needs more engineers and they are great ambassadors for their school and the region, inspiring younger students to get involved with the F1 in Schools programme that brings STEM to life for young people in an exciting way.
"We are proud to support them on their journey to the world finals."
FIND OUT HOW TO GET INVOLVED WITH THE F1 IN SCHOOLS PROGRAMME HERE
Team Unity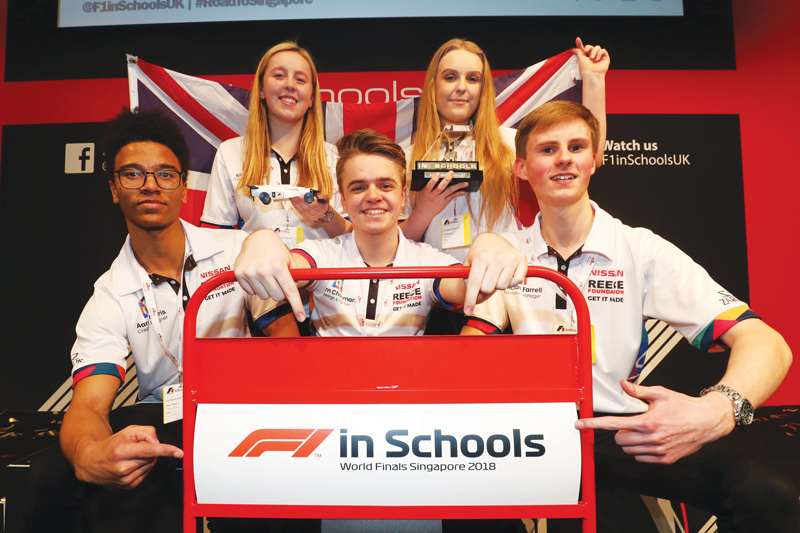 Lucy Brooks

I'm 17 years old and the Team Manager. My role throughout the competition was to manage the team and ensure all deadlines were met such as the submission of our portfolios and marketing strategies. Therefore my organisational skills had to be used effectively. I also ensured that contact with industry professionals was maintained and looked after as their support was invaluable to us as a team. Another aspect of the competition that I thoroughly enjoy is the manufacturing of the car. This involves the machining of the car using a CNC Machine and 3D Printers, then sanding the car and finally spraying the car multiple times. With my passion for F1, I know how precisely the car has to be manufactured. From the experience we have gained over the years, we knew it was important to ensure the car met all regulations and had a clean finish which was a key part of the competition.

I have always known I wanted to be a teacher and with the help of the project I have been able to mentor the younger teams to create a long- lasting legacy. This has helped me develop my ability to work with younger students to convey the appropriate information to help them succeed further. I also hope to help inspire more young girls to become more involved with the engineering industry.
Michael Farrell
As Unity's technical manager my main responsibility is to produce our engineering portfolio which showcases the research, design, testing and manufacturing processes involved in making our car. However, I'm also responsible for digitally marketing our team. This involves putting together our marketing and social media strategy and running our social media pages. Alongside this, I am also the main contact for our sponsors and am responsible for reaching out to any potential new sponsors.

Due to the breadth of my role, I have learned a massive amount through this process. I have discovered the wide range of careers available in engineering and since starting the competition have completely changed my future plans in the hope of pursuing a career in the industry. Being fortunate enough to gain a place on the Williams Engineering Academy last year has then further enhanced this goal and helped to further develop my critical thinking and engineering skills, whilst helping to kick start a career in the industry. The competition however has also taught me vital communication skills as well as how to effectively work in a team and meet deadlines, skills which are transferable to anything I do in the future.
Sam Chapman
I'm the Design Engineer for the team. My role entails being responsible for all the design work, which means that throughout the competition I have managed to learn three different CAD softwares, which is used for 3D modelling. I am also very much involved in the rest of the engineering within the team, as it is crucial for me to understand all aerodynamic principles, as well as how the car is assembled, as it is my role to fit it all together. Once I have the designs, I upload them into some CFD software to test my designs and can therefore compare them to all my other designs, to get the most efficient car possible.

I am very grateful to this competition as I feel it is because of my time in this team that I have developed a lot personally. I have gone from being a person who struggled to publicly speak, into someone who can present confidently. As well as this, all five of us also hold senior prefect positions as head boy, girl and house captains and therefore we are required to present in assemblies once a week. This is something none of us would have felt comfortable with before we joined the team, however due to the practice we've had from these presentations we are now confident with this.

My technical knowledge has also developed and as an avid watcher of Formula 1, I feel this competition has allowed me to gain the knowledge I'd need to apply for a career in this. I have been able to learn three different CAD softwares, which will be helpful as all I have learned will be fairly easy to transfer when I get a job in the design industry.
Aaron Morris
As creative designer, the main task of my role is to create all of the graphical elements required for our various assets. However, alongside that I'm an avid programmer, so I've utilised my passion in order to code an app specifically for our team as well as coding two different websites, all of which was done from scratch.
I've always expressed just how great of an opportunity F1 in Schools has given me to expand my horizons. Althougth computer science is something I've enjoyed for a while, I didn't think that it would be something I'd pursue as a career. However F1 in Schools has given me the confidence and helped strengthen my belief that it is in fact the path I want to follow. Simultaneously, I've been able to build a portfolio of graphics and computer science-related items which will undoubtedly help me when applying to university by differentiating myself from others.
Morgan Lisk

I am the Enterprise Manager for the team. My role requires me to look after the enterprise side of the competition and this includes securing and maintaining sponsor relations and considering our marketing strategy. I work alongside our creative designer, Aaron, in order to ensure that our brand is coherent and clear across all aspects of our team. This ranges from our car matching our pit display, which matches our uniforms. Finally, I produce a 10-page A3 portfolio with detailed descriptions of all our activity for the enterprise side of the team, which goes through a rigorous marking process and is then ranked against the other teams.

When we first formed the team three years ago, I actually wanted to be a graphic designer. However, my opinion soon changed when I discovered the engineering side of the competition and I found myself developing a passion for engineering. However, I still loved the creativity involved in design. I am now pursuing a career in architecture and I never would have considered my own ability in this field if I hadn't took part in this competition. Being in the team has given me confidence to pursue a career in a predominately male work sector and to promote more women being involved with engineering.
Back to Case Studies