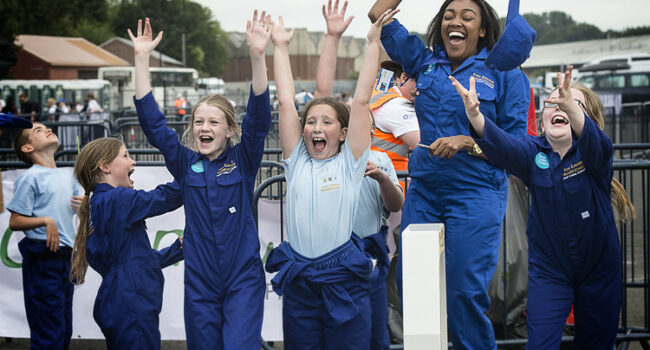 Whizz Kids in Top Gear at Greenpower Goblin Race Day
14th June 2018
The thrill of the racetrack came to Newcastle's Quayside when hundreds of children competed for pole position in the region's biggest kit car challenge.
The Greenpower Goblin Race Day on Spiller's Wharf involved 39 teams from across the North East.
It was the grand finale of a programme that has involved over 70 schools with teams of pupils aged 9-11 getting the chance to have hands-on practical experience of science, technology, engineering and maths (STEM) subjects.
Greenpower Education Trust is a UK based charity which gets young people enthusiastic about science and engineering by challenging them to design, build and race an electric car.
Backed by the Reece Foundation and the Community Foundation, the Greenpower STEM programme continues to expand in the North East with the funding enabling more young people to get involved.
Organisers hope it will help to tackle the region's engineering skills gap by helping young people to understand what the job involves and the exciting opportunities studying STEM subjects can bring.
The UK Commission for Employment and Skills projects that unique amongst English regions the North East will face an undersupply of around 20,000 STEM graduates by 2020/21.
Organiser and former engineer, Mike Lambert, chair of the Tyne Tees Automobile Division (TTAD) of the Institute of Mechanical Engineers, said: "Giving young people the chance to work with engineers and build the cars themselves really brings STEM to life for them.
"We hope they all enjoy the excitement here today and it will inspire more people to get involved."
Anne Reece, chair of the Reece Foundation, said: "This is just the type of activity that the Reece Foundation wishes to support as we believe inspiring young people to be enthused and excited by science, technology, engineering and maths (STEM) is vital to the future prosperity of our region."
Amongst those taking part in the race was a team from King Edward Primary School, North Tyneside.
Ayla Brown, 10, said: "I loved designing and building the car and screwing it all together. I want to be an engineer now because I think it would be really interesting and fun. There are loads of boys doing it, so I think there should be more girls too.
"It was really exciting driving in the race. I was really nervous at first, but then I thought 'it's just up to me now' so when the flag went I just really concentrated and I won!"
Hannah Osueke, STEM lead at the school, said: "The atmosphere here at the Quayside has been amazing. A number of the children are now saying they want to be engineers and younger pupils in the school are already excited about joining in again next year."
Find out more about how to start a Greenpower Goblin team HERE
Are you looking for funding for a STEM project? Find out how to apply for a Reece Foundation grant here.
Back to Case Studies