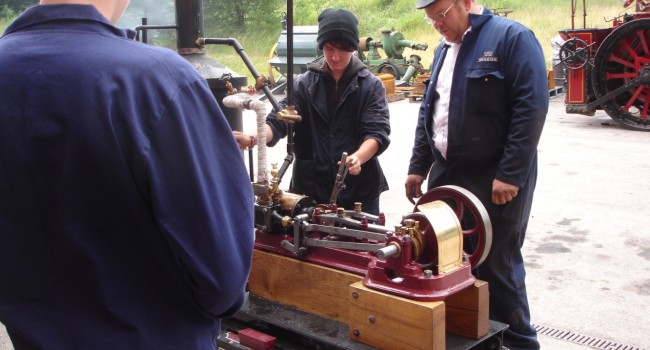 Beamish's £120,000 grant from the Reece Foundation to inspire engineers of the future
30th April 2015
The award-winning museum's work to preserve the North East's heritage will be used to help spark young people's passion for STEM-related (science, technology, engineering and mathematics) subjects. The three-year project aims to engage 10,000 children in STEM activities, develop engineering apprenticeships, and encourage positive attitudes towards STEM subjects, increasing the number of young people who go on to study them. The campaign also aims to increase youth volunteering at the museum's Regional Heritage Engineering Centre (RHEC) and help raise awareness of the North East's pioneering contribution to engineering.
Richard Evans, Beamish's Director, said: "We want to thank the Reece Foundation for this fantastic £120,000 of funding. We are overjoyed to receive this grant and it really will make a huge difference in helping us to nurture the next generation of engineers and STEM students." A STEM learning co-ordinator will be appointed to create activities using Beamish's site, collections, stories and events, with inspiration from the region's celebrated engineers. The co-ordinator will work with businesses, schools, colleges and universities to link classroom learning, visits to Beamish and real-life problem-solving. Plans for a STEM-themed "marketplace" event at Beamish have been drawn up to showcase the region's leading engineering and manufacturing companies to schools, colleges and young people.
Simon Woolley, Beamish's Head of Learning, said: "This fantastic grant from the Reece Foundation will allow us to celebrate the incredible world-leading innovations of the region's past in ways that will inspire children's learning. "Enabling young people to understand the creative solutions found in the past will ultimately inspire them to seek innovative ways of solving scientific and technological problems of today."
The Reece Foundation is a charity set up by late businessman and engineer Dr Alan Reece to support the teaching of engineering, maths and science. The foundation is supported by Dr Reece's family and the Reece Group. The foundation has already generously donated £350,000 to Beamish's RHEC project. This funding enabled the upgrade of existing workshop facilities and development of two new workshop areas, which has helped the museum to inspire and engage young people in STEM subjects, take on heritage skills apprentices, carry out heritage engineering work and other innovative projects.
Simon Gilroy, Trustee, Reece Foundation, said: "The Reece Foundation is once again very pleased to support Beamish.  We have no doubt that the unique environment offered by Beamish will be hugely inspirational for the children involved in the STEM activities."  Previous Beamish projects, such as a Steam School, Puffing Billy friction experiments, and counterbalance tests, have shown genuine interest in STEM subjects among students.
Back to News