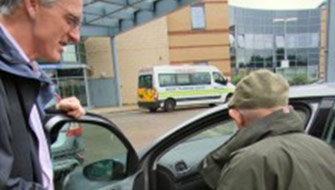 Supporting patient transport with Tynedale Hospice
3rd December 2014
Tynedale Hospice at Home is a local charity based in Hexham, covering over 800 sq. miles in the wider community of Tynedale and West Northumberland. It does not have in-patient beds, but takes care to those who need it; usually in their own home. It offers an holistic support infrastructure to individuals, and their families before, during and after the death of a loved one, as well as a vital hospital transport service, in its extensive, and largely rural, catchment area.
The transport service is staffed by over 30 dedicated volunteer drivers, using their own cars to take patients to and from hospital appointments. It has been regularly described as a 'life-line', by patients.
In a predominately rural area, people are faced with an exhausting journey to get to and from hospital for treatment, very often on a daily basis. If there are no family or friends close by, they can be left feeling isolated, anxious about meeting their treatment programme and facing a costly taxi service.
In 2014 The Reece Foundation provided a grant to pay for all of the mileage and administrative costs associated with patient transport. So far this year it has funded 629 return journeys, with over 1,000 hours of volunteer driver support, covering more than 30,000 miles.
"We receive no funding from external sources for this service, which is free to all that need it, and are extremely grateful to Trustees of The Reece Foundation for their support and commitment to maintaining it for an entire year. Their generosity is very much appreciated by us and our patients."
George Bell, Hospice Director
Back to News