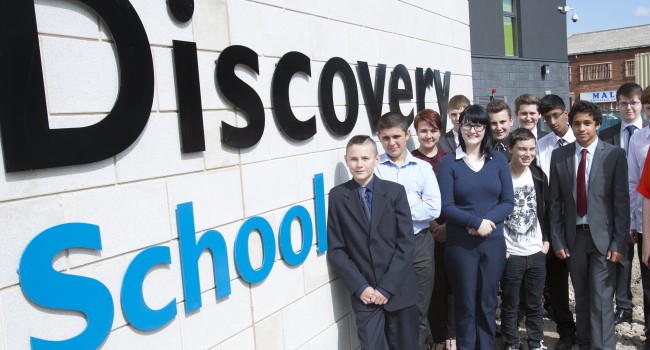 Reece Foundation gives students a travel boost
4th September 2014
Students who attend the new Discovery School may be eligible for a travel bursary thanks to funding from the Reece Foundation.
The school, which opens in Newcastle in September to prepare students for jobs in engineering, science and manufacturing, has been offered a cash donation to help students with their travel costs.
The money will be used to assist those students who are eligible for free school meals, or those who have to travel some distance to get to the school.
It means no student will have to pay more than the cost of an Inner Newcastle Student Metrosaver every year, £266.40, regardless of where they live.
The Reece Foundation was launched in 2008 by renowned North East engineer and businessman Dr Alan Reece to promote manufacturing and support education relating to engineering, maths and physics.
Trustee of the Reece Foundation, Anne Reece, said:  "It is vital we encourage a new generation of engineers and the initiative at the Discovery School, with its emphasis on technical and engineering subjects, makes it an organisation we are delighted to support.
"Their aspirations to increase the technical skills and employment prospects of its students are closely aligned to the Reece Foundation's ethos of supporting engineering education and enterprise in the North East."
She said her father had been a passionate believer in engineering as a provider of prosperity and enjoyable employment, so he would have supported the aims of Discovery School.
She added: "Projects such as this allow students to become enthused and excited by engineering and ultimately inspired to become our engineers of the future."
Mr Reece's name became synonymous with engineering across the UK after he developed a technique of burying subsea cables, which was widely adopted in the growth of the North Sea oil and gas business.
He had earlier trained as an apprentice engineer at the Vickers-Armstrong works before going on to become a lecturer at Newcastle University, where he worked for almost 30 years.
However, after inventing the deep sea plough to bury pipelines, he set up Soil Machine Dynamics (SMD) to deliver the project and later went on to acquire Pearson Engineering, which focused on the military market, and latterly Velocity Road Patching.
After he died in December 2012, his family carried on running the business and took over the direction of the Reece Foundation.
School Principal Wendy Allen said: "Dr Reece was an incredible inspiration to young people in this region and was a great advocate of the engineering and manufacturing sectors, so we are thrilled to have received the support from the foundation.
"We are very excited about what Discovery School will offer young people who have a love of maths and science, so it means so much to us to have the backing of this great entrepreneur's family."
Students aged between 14 and 19 from Tyne and Wear, Northumberland and County Durham will attend Discovery School, which will offer traditional GCSE and A-Level qualifications in an innovative, multi-million pound environment.
The school is working with a number of companies to ensure the curriculum is relevant and project-based, including Pearson Engineering, Siemens, Dyer Engineering, Pirimal Healthcare, Egger, Ryder Architecture, Cundall, Liebherr, PDL Solutions, Ubisoft Reflections and domnick hunter Filtration and Separation Division.
Back to News