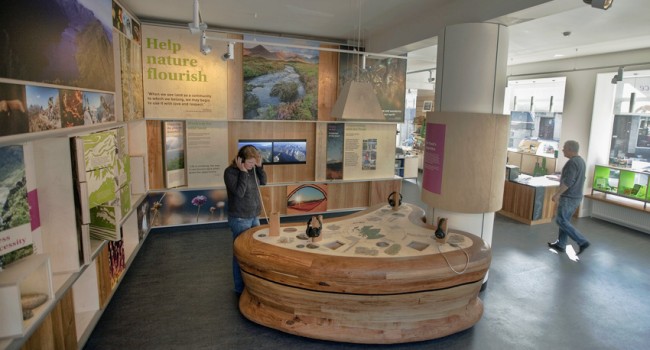 Supporting the John Muir Trust – Wild Space
3rd December 2013
The Reece Foundation's donation to the John Muir Trust made possible the first visitor centre, the Wild Space, that showcases the UK's fantastic wild places and the critical role conservation plays in keeping them wild. This brand new venture for the John Muir Trust means that information about wild land conservation is reaching a more mainstream audience than ever before.
Since opening in 2013, the Wild Space has meant:
More people have engaged with wild places, and a broader cross section of society have been enthused by wild places, visiting the Alan Reece Gallery, seeing the Our Essential Wildness film, and exploring an interpretation area showing the importance of caring for the environment.
The celebration and sharing of public participation in environmental initiatives – The Alan Reece Gallery is successfully hosting a professional artist every 2 months, including talks and workshops at the Wild Space, with a focus on landscapes, wildlife and woodlands to date.
Local and national opportunities for volunteers, local employment opportunities, and new income to support the work of the John Muir Trust.
John Muir Trust Chief Executive Stuart Brooks reflected on the role of its key funder, Alan Reece: "The Wild Space is the product of one man's ambitions: Alan Reece, who loved the mountains and wild places and wanted to instil that love in others. Our aim is to engage a broad cross section of society – the journey has to start somewhere and that's what we are trying to do here."
Alan Reece's daughter, Anne, explained why her father was so passionate about the Wild Space: "My father thought it was very important that the John Muir Trust reaches out to people who had who had never been to the mountains. The Wild Space means that people can get enthused about wild places. And it will help make sure that the John Muir Trust is here for future generations. I hope that lots of people will come in here and love it as much as we do."
Just some of the visitor comments:
'Inspires you to get out there!'
'Super, open, informative place. Perfect!'
'John Muir's home away from home. Wonderful.'
'I feel refreshed and restored.' 'We enter another world here – this is truly the real one.'
The John Muir Trust is dedicated to protecting and improving wild places for people and wildlife. They own and look after some of the UK's finest landscapes. They also campaign to protect wild land for future generations and promote awareness of the value of wild places. Over 25,000 members and supporters contribute to this vital work, through donations, campaigning and volunteering. Their activities connecting people and nature generate over £1m worth of conservation volunteering each year.
Back to News